We can custom dye any fabric that is at least 80% cotton mix. Our products include Shirts, hats, shorts, pants, aprons and more.
Each item IS A FINE WORK OF ART - no two pieces are the same. We recomment you wash these separately in cold water to prolong the colors.
One color Tie dye works wonders with corporate imprints.
Above, see one of our best selling shirts.
Top Quality Camps and resorts come to us to produce their (ONE OF A KIND) shirts.
WE WON"T BE UNDER-SOLD as we are the first and the best in the business of TIE DYE (since 2006)
Single color Tote bags are uniquie and very affordable. Print your message in quality fashion.
We guarentee these bags will be kept by the end user. PERFECT PROMOTION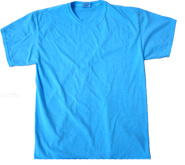 No one produces better custom colors like we do.
Ring spun or standard 100% T shirts are our specialty.
Order our famous Tie Dyed Bucket hats. They can be screen printed with your logo in black ink or even embroidered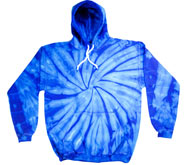 Our best and affordable hoodies are produced as one color, perfect for printing
ORDER from our Wholesale FACTORY tie dye designs that your clients will always appreciate
APPOINTMENTS ONLY - NO FACTORY DROP-INS
EARLY 2016 SPRING SAMPLE SPECIALS

We have a great selection of last years Hoodie samples at a reduced wholeasle unit cost... while quanities last

" WHOLESALE ONLY - MINIMUM ORDER $500.00 net or more.

"

WE ARE ONE OF THE LARGEST (DAY CAMP) - PRINTED TIE DYE SUPPLIERS IN ONTARIO.

COMPLETE TWO COLOUR SWIRLS START AT $14 EACH with ONE COLOUR BASIC LOGO imprint ... or our basic unprinted shirts FOR AS LOW AS $12 EACH

(SPECIAL DISCOUNTS MAY ALSO REDUCE PRICES for large venues)

2 to 4 Weeks delivery F.O.B. (Canadian Funds) - 100% cotton Gildan Ultra Cotton shirts included in the net price.. tax extra
NORTH YORK (TORONTO-ONTARIO- CANADA) SCREEN PRINTING FACTORY
Gary Pongracz,the Managing Director, leads the factory and design team. His 25 plus years of custom apparel imprinting experience gives him a huge adavantage when dealing with (YOU) THE PROMOTIONAL EXPERTS. He's never too busy to speak with you IN PERSON or FACE to FACE.
Direct Phone available on request
Gary's favorite Muskoka Place - guess where?
AUTOMATED PRINTING great for TODD our Foreman
Send us your PDF file for a quick review and free (24 hour) estimate. WORLD-WIDE SHIPPING